How to export/download your data of Google products

"Your data is all yours", this statement can only be justified when you can get your data whenever you wish. Now when we talk about Google and its services then Google always make sure that a user's data is his sole property. This is the reason that Google not only makes efforts to keep user's data safely but also readily available whenever a user requires. In this article, we will discuss that how you can easily download all your data for the Google products you are using.
Google offers various products to its users like Google blog, drive, chrome, hangouts, maps, YouTube etc. Whenever a user makes his account with Google and uses any of these products, the data automatically starts saving to Google servers. However, it is user discretion to allow or disallow Google to save his data.
In 2011 Google introduced Google Takeout, using which user can download his data which is saved on Google servers. However, at present Google has added many products for which you can retrieve your data. If you are using various Google products and wish to export your data for all the products, then surfing through each product can be a hectic task. Therefore, the better option is to use Google Takeout and get your data in few easy steps. Moreover, downloading your data does not make any changes to the data which is stored in Google's server.
How to get started with Google Takeout
Click on the link below and sign into your account:
https://www.google.com/settings/takeout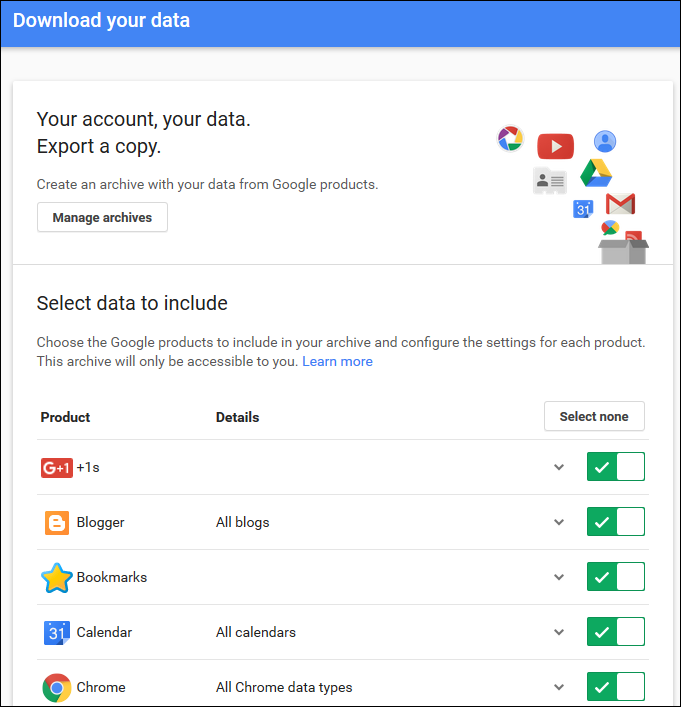 Now you will get the list of various Google products. Choose the Google products for which you need to download the data.

Once the product is selected click on Next.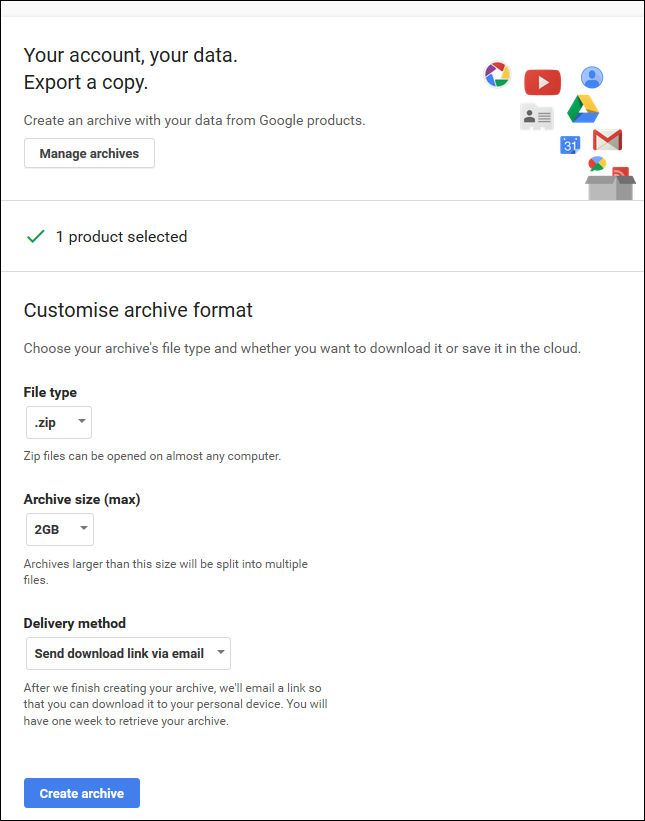 Now choose your archive's File type and its Size. Also, choose the Delivery method to get your data.

Google provide you various delivery methods like Send download link via email, Add to Drive, Add to Dropbox, Add to OneDrive. Once you select the Delivery Method click on Create archive. Your complete data will be archived in the format you chose and you will receive an email when your archive is ready. You can now download your archive by providing the account password.
Google always values his users and their needs, and this is the reason that Google not only takes the responsibility of the data saved on its servers but also made it available whenever a user needs it.