Microsoft has provided an all-new Action Center in Windows 10. Action Center will give different notifications and contains Quick Actions buttons.
This action can be opened in two different ways.
Windows Key + A
Click its icon just the right of the system clock on your taskbar.


This Action Center is divided into two major sections – Notification area and Quick Actions panel


Notification area
You will see all the notifications in this panel. You can change the notification settings easily and even change the application from where you wish to receive notification.
Customising the notification settings:
To do so Go to Settings.
In settings click on System
In the System section go to Notifications & actions on the left panel.

When you scroll down in Notifications & actions you will see "Notifications block" and "Get notifications from these senders" block.
In the Notifications block, you can toggle on or off to receive notifications or not.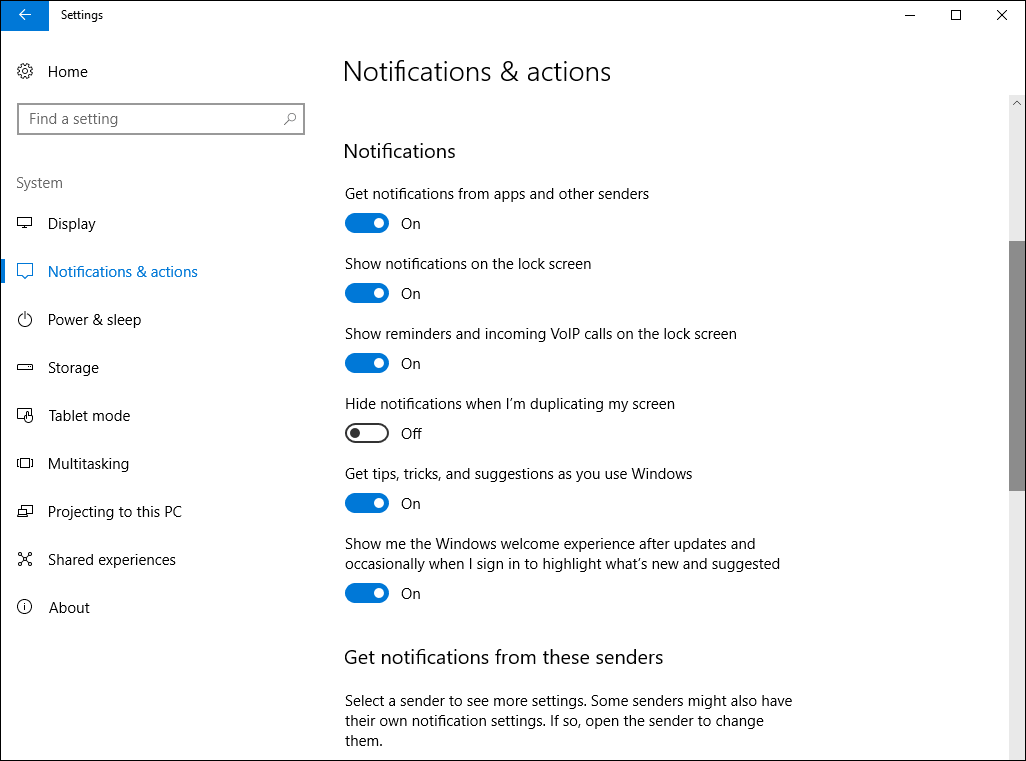 And in the Get notifications from these senders block, you can toggle on or off from the default application you wish to receive notifications.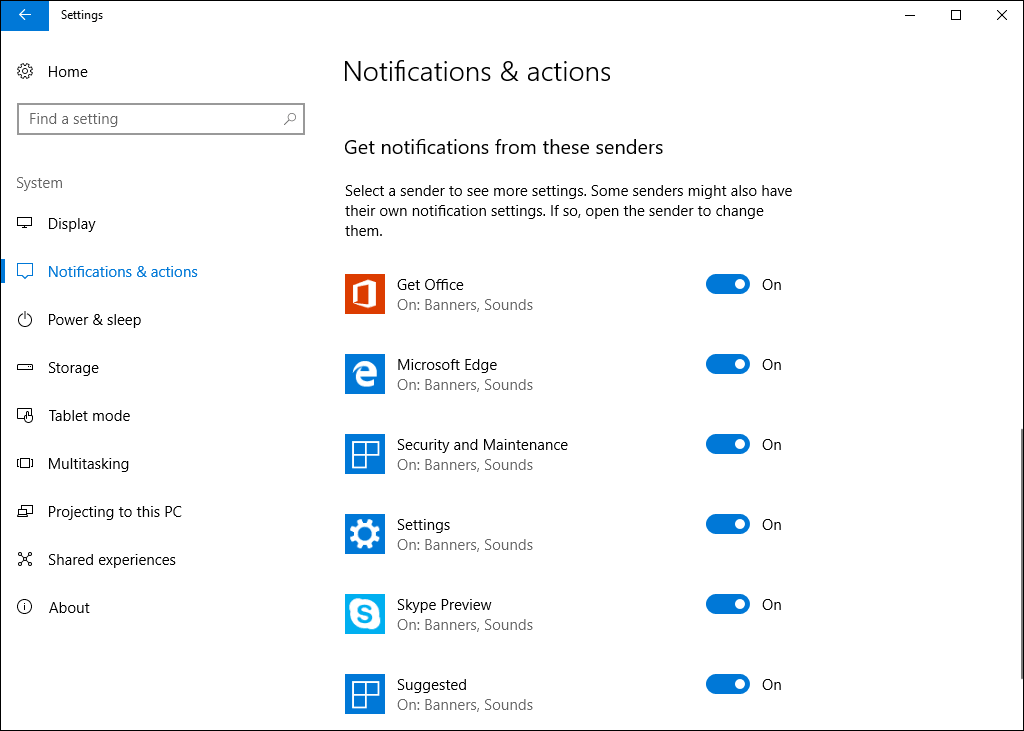 Quick Actions panel
Quick Actions panel contains different icons. These icons are shortcuts to different settings and features. Using these icons users can directly access the settings and can easily use different features.
Customising the Quick Actions:
To customise Quick Actions, you have to go to Notifications & actions settings from where you have customised the Notification panel
In the Notifications & actions panel you will find the Quick actions block, from this you can customise the Action Center so it contains only the icons (quick actions) you want.

You can also move the icons (quick actions) around as per your convenience. To move your quick action icons, just click on them and move them as per your need.

In case you do not want to use quick actions, you can hide the ones you don't want to use or you can hide all of them.
To hide quick actions click on Add or remove quick actions as shown in the screenshot.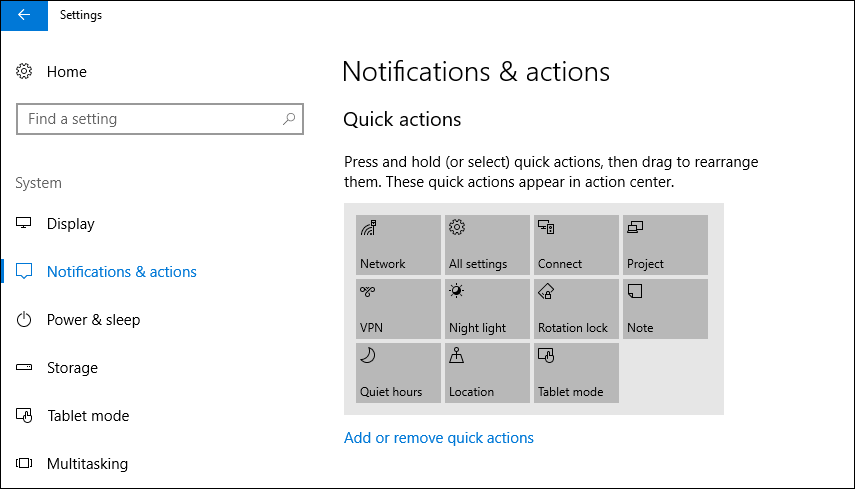 You'll see a new window with the names of each available quick action on the left pane and in front of them, you will see the on off toggle. Simply turn on the switch to show quick action or turn off the switch to hide it.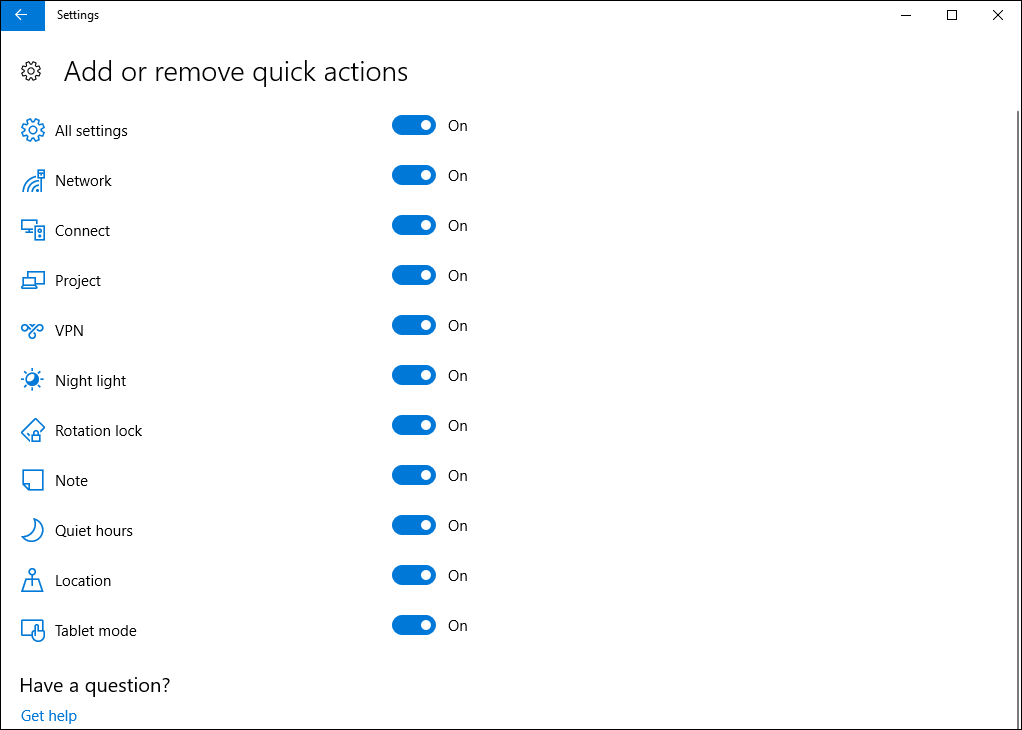 Using these settings, you can customise your Action Center as per your needs. In case you do not use Action Center, then you can turn off the notification and Quick Actions from the settings.