Windows 10 provides innovative security features, and among these security options are new sign in options like the PIN code and Fingerprint Scanner.

What Is Fingerprint?

A fingerprint scanner uses your fingerprint for identification. Scanning an image of your fingerprint, and then saving a registered copy of it, is basically what a fingerprint scanner does. So next time when you need to identify yourself, as when signing in to Windows or an app, the fingerprint reader will scan your fingerprint and compares it to the saved version.

What is PIN?

PIN simply signifies the personal identity of a person.
This tutorial will show you how to add a fingerprint and PIN for your account that you can use to sign in to Windows 10.

How to Add a PIN and Fingerprint to Your Account
Go to the "Settings" -> "Accounts".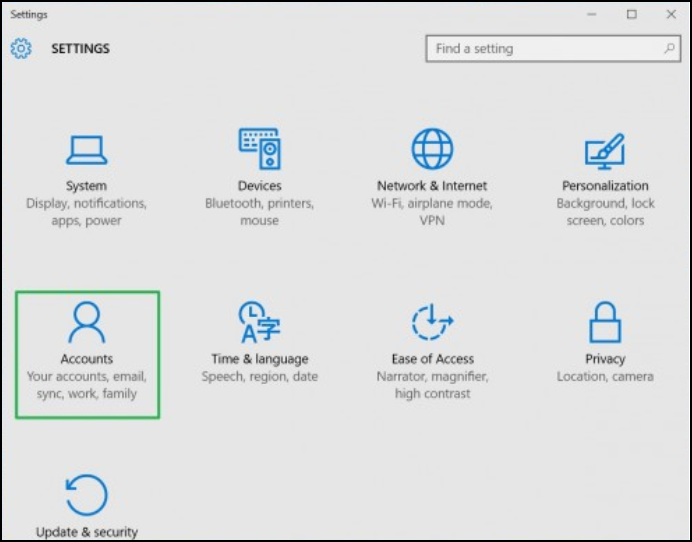 Click on "Sign-in options" from the left panel.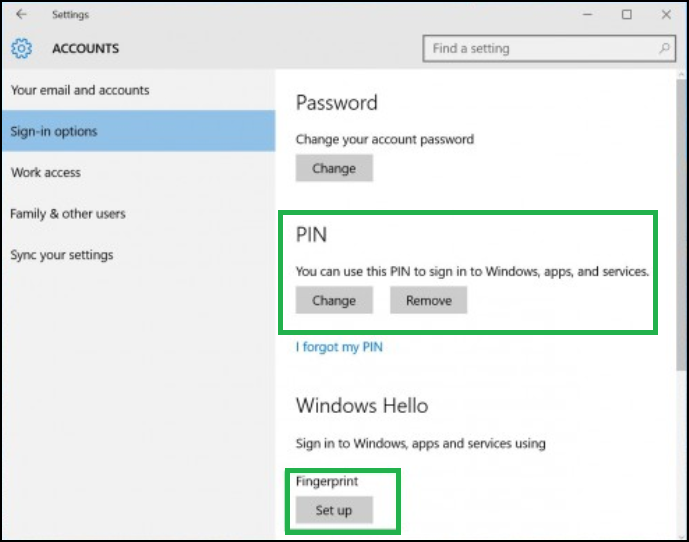 In the right panel, you can see PIN and Fingerprint options.
The above-mentioned steps are to be followed both for setting a PIN and Fingerprint.
**Please note if your PC has a fingerprint reader, then only you will be able to setup and add a fingerprint for your account.
Also, while setting up the fingerprint PIN is mandatory, if you don't have a PIN, you'll need to create one to set up the fingerprint reader.
Also read: Security Features in Windows 10
 
1.    Add a PIN to Your Account
To add PIN, click on "Add" button under "PIN" on the right side.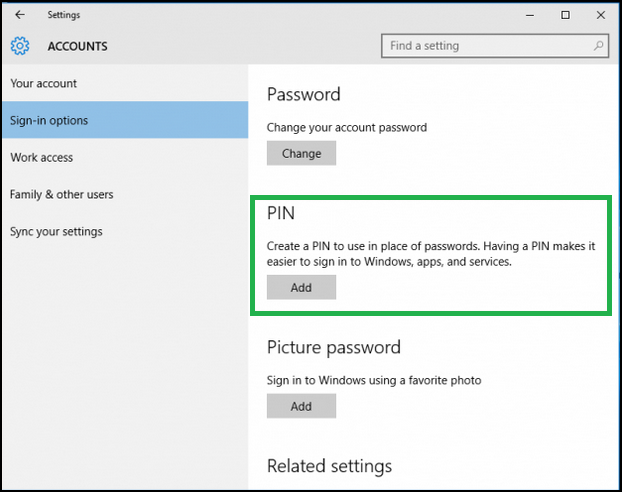 If prompted to verify your account password, enter your local account password and click on "OK".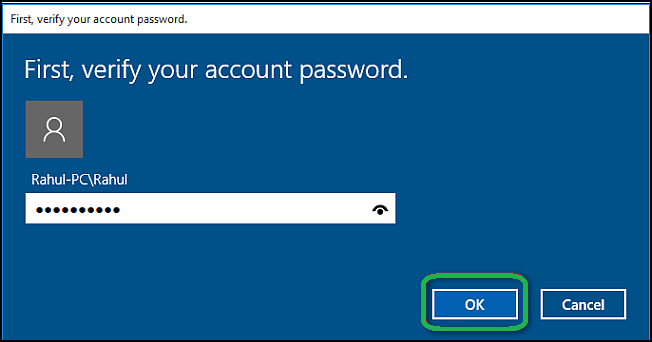 Enter at least a 4-digit PIN number you want for your account. Confirm the PIN by re-entering the PIN and click "OK".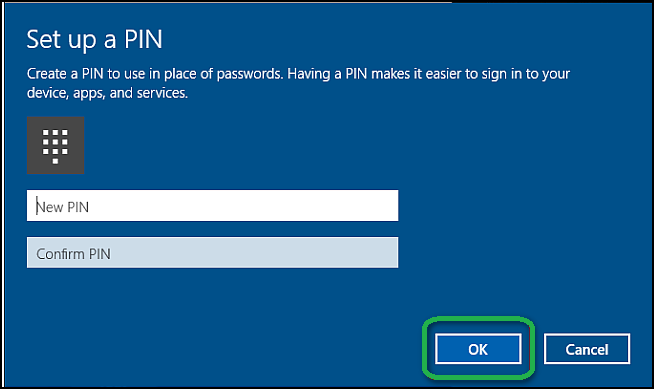 There are no limitations on maximum length or complexity of the PIN you choose. Here are some considerations before you choose a PIN:
Using more digits will make the PIN harder to guess but make sure you can enter the PIN quickly and accurately, otherwise there's little benefit over just using a password.
Using a simple PIN (0000, 0123, 1111, and so on) will make it very easy to guess; choose random numbers.
Reusing PINs from your bank accounts or credit card number should be avoided.

When finished, you can close "Settings".

2.    Add a Fingerprint to Your Account
Scroll down to "Windows Hello" and click "Set up" in the Fingerprint section.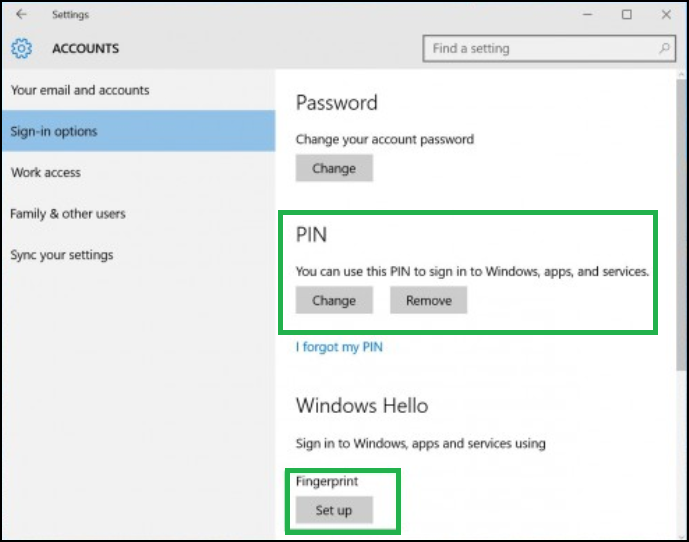 From the "Windows Hello setup" window, click "Get Started".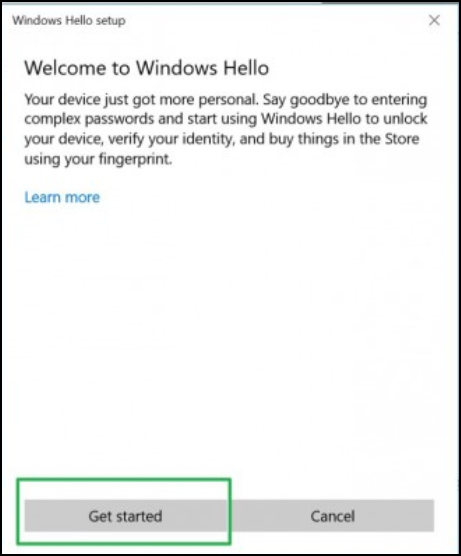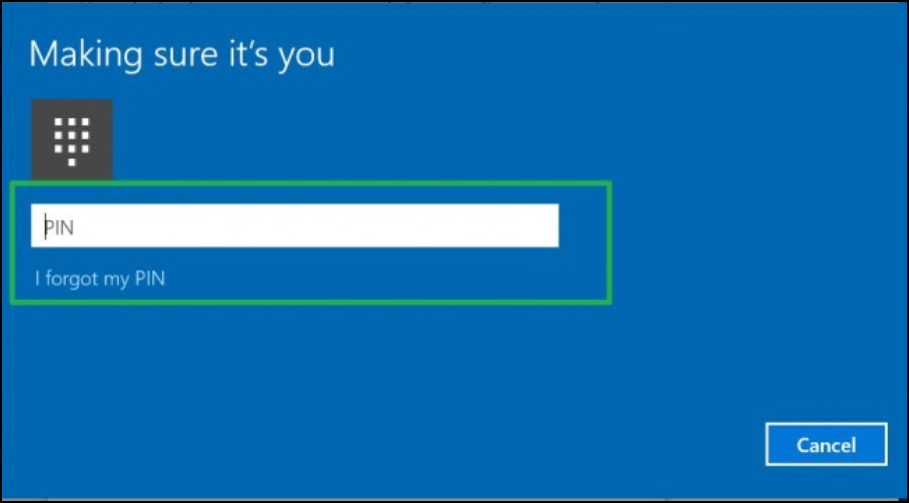 Scan you finger by placing it on the fingerprint reader.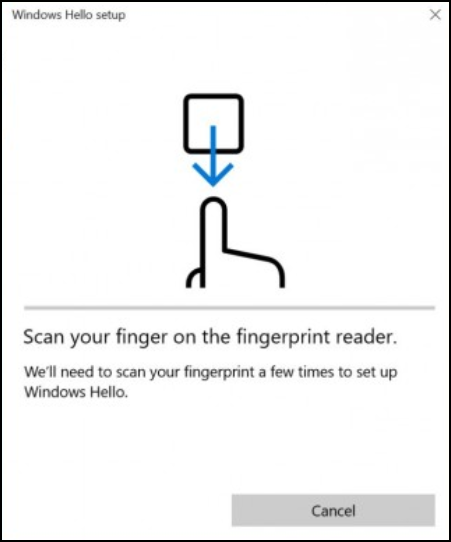 Click "Add Another", if you wish to repeat the process with another finger, or else close the program.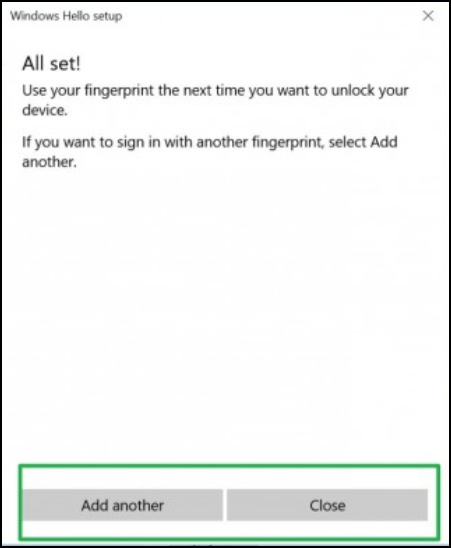 When finished, you can close "Settings".
In many aspects, we can say that PIN and Fingerprint is more secure than a password which we have used in earlier version of windows.