Since the invention of the Internet, innovations in technology have been moving forward bringing new products that are often beyond our imagination. And when it seems that the inventing process slows down, one of tech giants like Google or Microsoft, present a new product with must-have features. Smart speakers had been flooding the market with Google, Amazon and others releasing newer models with enhancements over its predecessors. While this process was flowing smoothly, Google changed the rules of competition by releasing Google Nest Hub.
What is Google Nest Hub?
'A smart speaker with a touch screen'.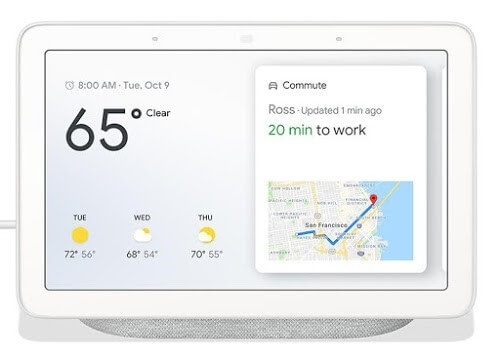 Google Nest Hub
Google Nest Hub is a smart home hub which is designed to affluence life and make things easier. It is an electronic device that just needs power to turn on and a Wi-Fi connectivity to operate. Once operable, it acts as a digital assistant which can answer your queries and you can get a few tasks done just by asking it to do so.
It has a 7-inch anti-smudge, oleophobic coating touch screen which is bright enough to watch videos outdoors. It includes two mics and a decent speaker that is loud. You can make calls through Duo app provided both the parties involved in the communication have Duo installed. However, it does not contain any icons and you must use Google assistant to handle your requests and queries. Other than Google Assistant, it is also compatible with Hue, Nest, Ring, SmartThings and Wink. It is available in two colors – Chalk and Charcoal.
Google Nest Hub can be purchased from Walmart's online store for $99.
The portal allows you to choose between the two colors and provides free delivery.
 Google Nest Hub Max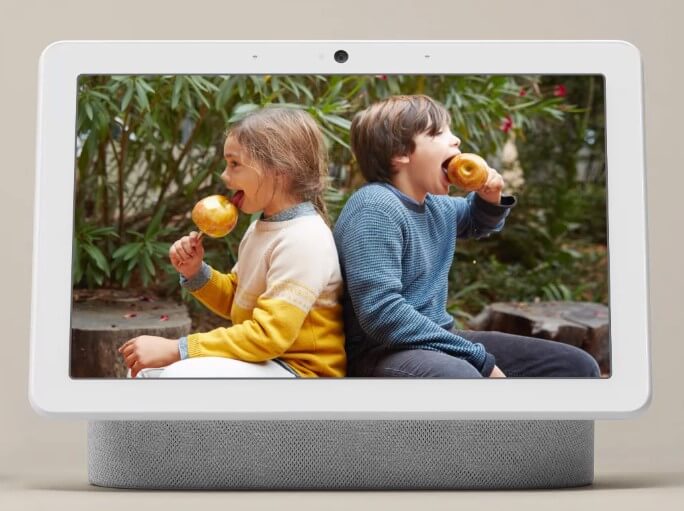 Google Nest Hub Max is slighter bigger at 10-inches and includes a camera that enables the user to make video calls. It is more than just a smart speaker that controls all the smart home devices. It allows the user to use the camera on the device to be used remotely which means you can watch your home on your smartphone. The camera is designed to detect motion and send you an alert via push notifications.
Furthermore, the camera also features facial recognition which means it would identify the person in the room and provide information related. For example, it would read you your schedule, provide weather forecast and play a news summary provided you program it to do so. Apart from the obvious two-way video calling and video messages, it also features gesture detection which means that the camera can perform some functions after capturing your gestures.
Google Nest Hub Max is priced at $229 and would be available for purchase from 9th September, this year. Do bookmark this page and check out for more updates after 9th September.
What can you do with Google Nest Hub?
Watch your house. With compatible cameras placed around your house, you can watch your house while lying in your bed. This can help you keep an eye on your children, check the garage and even know who rang the bell.
Digital Album. Google has always provided a backup service and even developed the Google Photos app which lets you to store and manage your precious memories. These photos can either be viewed on your computer or TV via Chromecast. With Google Nest Hub, you do not need an external screen as the device contains a built-in touch screen.
Control your Smart Devices. More than 5000 smart devices compatible with Google can be controlled with the help of Google Nest Hub. You can view and control lights, TVs, thermostat and many other devices from a single dashboard.
Use your voice to watch YouTube.  Simply say "Hey Google, play Rock music", and Google Nest Hub plays whatever you wish for. Videos can be watched from YouTube with free access to Pandora and Spotify for music. You can watch MasterChef in your kitchen and try to cook the same recipe.
Your personal Genie (Assistant). Aladdin had a magic lamp which he used to fulfill his wishes. Now this particular Genie doesn't have the Arabian Nights powers, but it can do a lot, like displays your schedule for the day, set reminders, commute and much more.
Education is Fun. Google Nest Hub gives you visual answers to your questions. It would not only display images relating to the question but also play related videos from YouTube. This feature makes education easier and interesting and will help your child grasp more.
Designed for any room at home. Google Nest hub has an ambient EQ, which helps the device to adjust itself and match the colors and lighting in its environment. This enables the photos on Hub blend seamlessly in with your home decor.
Make voice calls. You can call your family and friends provided that have the Duo installed on their smartphone or tablet. This makes it easier to call or drop a message to your loved ones while carrying out your tasks. And you do not need to use your cellphone, just request Google Assistant and it will take care of the rest.
What more can you do with Google Nest Hub Max?
All the above features listed plus
Make Video calls. Never miss a moment and if you cannot be near your family physically, a video call is the next best option. You can always do that on a smartphone, but it looks even better on a 10-inch screen and you don't have to hold it everywhere.
Monitor your home with motion detection. This device features a Nest-cam which can send a live feed to your smartphone when you are away from your home and even send a notification in case of unusual motion detection.

Not convinced yet?
Google Nest Hub is undoubtedly, a must-have device that is designed to ease our everyday lives and improve already existing security features. It is also a great source of entertainment as it can stream YouTube and allow video calls. It can be used for learning and act as a visual remote for all your smart home devices. Google Assistant is always on the learning curve and who knows, how many more doors would Google Nest Hub open into our lives as the possibilities with this device are endless.
Do let me know if I have missed any other use or feature of Google Nest Hub. Also, I am curious to know which one you have selected in the comments section below.