Google Duo audio calling now available worldwide

Google's Duo, a simple video calling app just announced its audio-only calling feature. A year-old Duo, which was primarily focused on video calls got a tad bid advanced by introducing its audio-only feature in March. Initially, the audio-only feature was made available to users in Brazil. However, Justin Uberti, principal engineer at Google, has now announced on Twitter that the feature is now live for users worldwide and can be accessed from any corner of the world. Google Duo's latest version 9.1.1516 comes with the audio-only feature.
Since its initial release in the year 2016, Duo has been a one-trick pony supporting just video calls. With the addition of audio-only calls, users can now make audio calls without worrying about the high chunks of data being used as well as the battery drainage. Adding a bit of fun, people do not even have to consider fixing their hair soon before starting a video call. The audio-only feature, is undoubtedly a value-added feature for users who were looking for a simple app, without any fancy add-ons creating unnecessary complications and confusions.
As per the screenshot in the tweet by Justin Uberti, users of Duo can now make a choice between video and audio calls by switching a toggle present at the top of the application interface.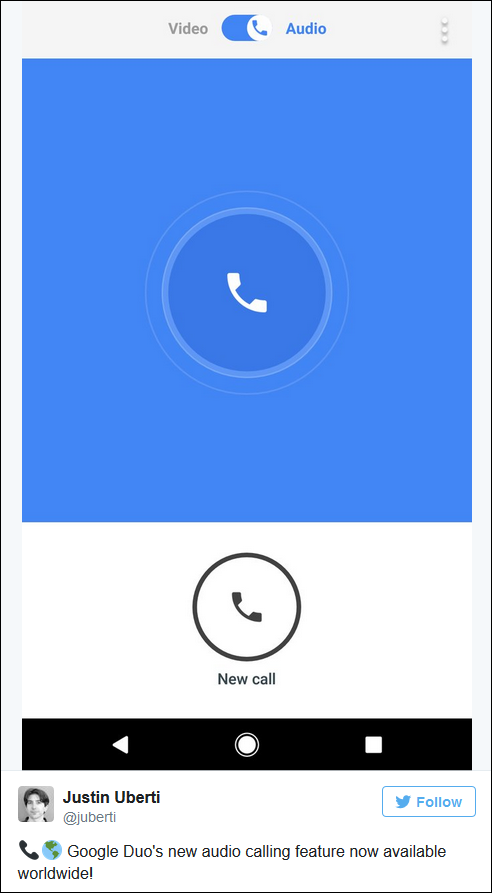 Also read: How to get started with Google Duo
As a surprise for the users, Goggle Duo does not even want you to have a Google account. All you need is your cell number and contact list, to connect with people using the same app. Google Duo even works when you do not have a cell service but just internet service, be it Wi-Fi or cellular, with makes it even more usable.
Introducing audio-only feature, Google Duo can now be better positioned to compete with applications offering both offer audio- and video-chat options, like WhatsApp and Facebook messenger.
The addition of the new feature, leaves us to wonder whether Google will continue building out Duo, and which features might come next.