Table of Contents
Windows 11 is a great operating system but it is far from being impeccable. And, some users are reporting grave issues like broken registry items which form the base of our post. So how do you fix broken registry items in Windows 11? In case you are new to the concept of Windows registries, let's first try and catch a glimpse of what these are and what wrong could happen if registry items become corrupt.
A sound Windows registry is extremely important for the proper functioning of your Windows operating system. The registry contains a database that further is inclusive of settings for software and other information pertaining to user preferences, hardware, and most importantly, the operating system itself. Needless to say, if anything goes wrong with the items, grave issues may occur. These include sudden PC crashes despite a good processor, sudden app crashes, various kinds of blue screens of death (BSOD), various registry errors, and many others.
Also Read: Best Ways To Fix Corrupt Registry In Windows 10
Why Do Registry Items Get Broken Or Corrupted?
Let's put Windows 11 in context and look at some possible reasons why broken or corrupted registries may occur –
Improper Windows 11 installation
Application not properly uninstalled or updated because of which unwanted keys have been created
Malware has crept inside your Windows
Faulty or damaged devices
You have modified a registry wrongly or have added a wrong registry entry
Important to Note:
Also Read: Is It Safe to Optimize Windows Registry?
How To Fix Broken Registry Items?
1. Run an SFC Scan
Often broken registry entries can be the result of corrupt Windows files. The best and the simplest way to fix corrupt Windows files is to run an SFC scan. You can either run the SFC scan in normal mode using the command prompt or you can take a step further, boot into safe mode, and then run the scan. To run SFC scan –
In the search bar, type Command
Choose Run as administrator from the right-hand side
Click on OK when the UAC prompt occurs
When the Command Prompt window, opens type
sfc /scannow
Hit the Enter key
2. Perform a System Restore
Provided you have already created a restore point in the past when everything was working just fine, you can use a previous System Restore Point and go back in time when there were no broken registry items. Want to know how to create a System Restore point in Windows 11, refer to this post.
3. Run Disk Cleanup  To Get Rid of Temporary and Corrupt Files On Your Computer
Consider broken registry items as unwanted files that occur when you try to uninstall drivers, software, and devices. Microsoft has a decent utility in a place called Disk Cleanup which is capable of removing all such unwanted files.
In the search bar, type Disk Cleanup and select Open from the right-hand side

Select C:/ Drive and click on OK


Click on Clean up system files and you will again have to select the drive once again so that Windows files can be scanned

Next, under the Files to delete section, select files that you want to be cleaned and click on OK
Click on Delete Files when the Disk Cleanup prompt appears
4. Use A Dedicated Tool To Fix Broken Registry Items
Sometimes, when you are short on time or when you want to resolve issues like these while eliminating any scope of errors, a tool like Advanced System Optimizer can be your best bet. Remember if while fixing broken registry items, you delete wrong registries, you might just render your operating system inoperable or hamper its functionality. Hence, a tool like Advanced System Optimizer can be of great use when trying to fix broken registry items in Windows 11.
So, what exactly is Advanced System Optimizer? It is one of the most popular Windows optimization utilities available. At its core, it deftly cleans your RAM and junk from your computer and at the same time optimizes your PC for supreme performance. You might wonder if this program can help you fix broken registry items. Yes, it can, and let's have look at how to do that –
Download, run and install Advanced System Optimizer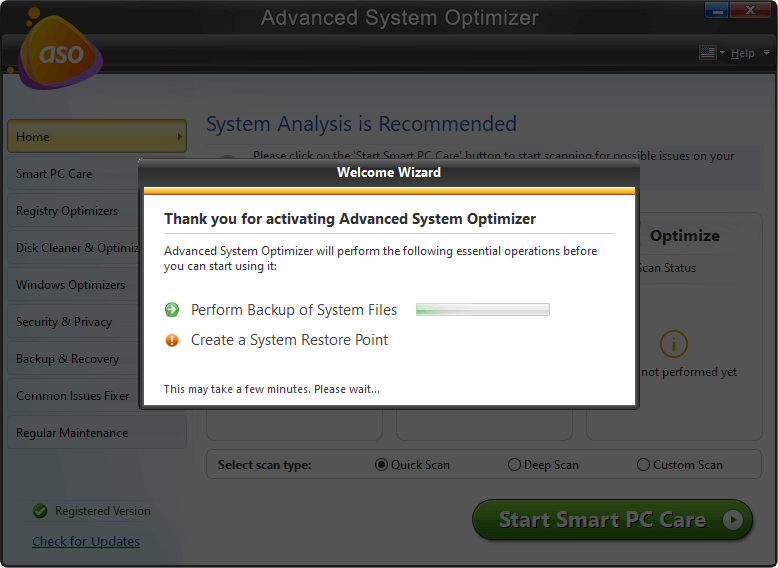 Click Here to Download Advanced System Optimizer
From the left-hand side, click on Registry Optimizers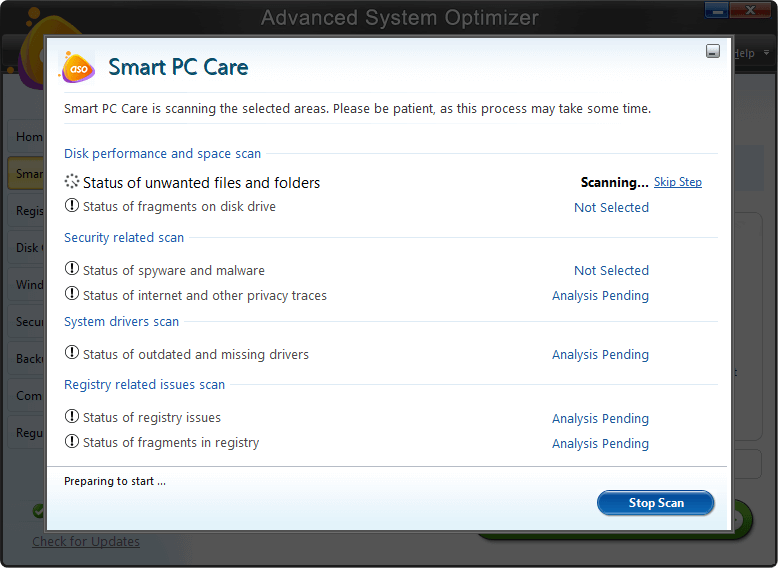 From the right-hand side, click on Registry Cleaner
Hit the Start Scan Now button
Wait for the scan to complete and then click on Optimize Now
That's it! In a matter of moments, you will be able to scan and fix any broken registries.
5. Fix Broken Registry Items With The Help of DISM Tool
The Deployment Image Servicing and Management or DISM tool is a command-line administrative tool that is often used to fix common system issues. And, if you are wondering how to fix broken registry items, the DISM tool could just be what you are looking for. The DISM tool replaces the corrupt files with working ones. Here's how you can use the DISM tool to rectify broken registry items –
In the Windows search bar, type Command
Select run as administrator from the right-hand side
When the Command Prompt opens, type the below-mentioned command
DISM /Online /Cleanup-Image /RestoreHealth

Wait for the scan to get over
After the tool has found and replaced corrupted files, check if the issue persists.
6. Reset Your Windows 11 PC
If nothing else seems to work, you can try and reset your PC. This way your PC will be reset to its default factory settings. There are options where you can conduct a factory reset on Windows 11 while preserving your files. However, we recommend that from time to time, you create a backup of your data so that even if something extremely wrong happens to your computer, you will have your data intact and you can further restore it.
Wrapping Up:
Hope that you have now been able to fix broken registry items on your Windows 11 PC. If you found the post to be helpful, make sure you also help someone else in need. For more such content, keep reading Tweak Library.