Dropbox – Its Pros & Cons!!
Dropbox!! An easy breezy way to store files on the internet. An online cloud application famous enough since its free and which lets you keep your documents/pictures/music handy whenever you need them.
Not just this, it lets you share your data between different devices. As far as you have your internet connection up and running you can share data between computer to computer and computer to phone, that too without any worries and difficulties.
Unlike the old era, where even for a small presentation one had to carry their big heavy laptops to the conference rooms that gradually were taken over by USB drives but still being prone to being lost, OR emailing of files and data back and forth between clients. Dropbox offers to be a one-time solution.
With the advancements of technology where everyone wants to be hands free and secure, using Drop box proves to be one of the safest and secure method of storing/sharing and accessing data over internet.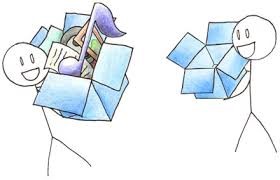 Benefits of Dropbox:
Free:
Being completely free Dropbox doesn't leap out at customers any time. Dropbox offers 2 GB of free data upon installation which is a pretty cool offer for new users. Moreover, you can be awarded few gigs of space when you connect your twitter or Facebook account to Dropbox or invite your friends to use Dropbox.
Convenient usage:
Due to its extreme convenience in usage, Dropbox has eventually gained popularity amongst people who like things the simple way. Sharing of data can be achieved by installing the application or can be simply accessed online.
Sharing of Files:
Business communication has become an easy task using drobox. From assigning a task to the employees to submission of reports by employees to their manager, everything can be done effortlessly. Just share your information through Dropbox and you are good to go.
Secure Backup:
Since done on a cloud, it eliminates the risk factors involved due to wear and tear and loss of physical components.
Ease of access:
Dropbox can be accessed anytime and anywhere. Just have an internet connection and you can access your files and data. Even if offline you can edit your data and once online it can easily be synced to all the devices.
Easy retrieval after deletion:
Accidentally deleted your data, no need to worry. Using Dropbox you can easily retrieve deleted data within 30 days.
As is light accompanied with shadow so is Dropbox holding some negatives in its pocket too. Dropbox does not provide data encryption, making it insecure for sensitive data to be stored online using Dropbox.
In addition, manufactures of the service have complete rights to delete the data if the account is inactive from some time.

Providing a good balance between performance and value, Dropbox proves to be one among the best online storage services. Though a few downside factors, Dropbox is a simple yet effective service to use.