There is a common notion amongst all kinds of computer users that an Antivirus slows down the performance of a PC. This can be of greater concern amongst avid gamers, who may or may not install an Antivirus just because it may make or break their gaming experience.
So, before you write off the need of having an Antivirus, let's try and ponder upon the "love-hate" relationship of a gamer with an Antivirus and find out if an Antivirus impacts one's gaming session.
How An Antivirus Impacts Gaming On Your Computer
We don't completely negate the notion that an Antivirus can slow down your gaming but, should that tempt you to disable your Antivirus or worse, uninstall it? Let's find out.
Games Are Resource Intensive, So Can Be An Antivirus
High-end games indeed consume your computer's resources for the simple reason that games these days have high-end graphics, they come with several different modes. And, this may leave a little room for other processes to run in the background. To avoid lagging in such a scenario, gamers often turn down antivirus.
Here, it is highly advisable not to turn down an antivirus because if you are playing games online or even if you are playing games while your internet is still running, in the absence of antivirus, you might be vulnerable to a cyber attack.
Scanning and Gaming At The Same Time Can Impact Gaming
Yes, your PC might indeed slow down if you play a resource-intensive game while the full-in-depth scan mode of your Antivirus software is turned on. A deep scan does involve resources like RAM, storage, and CPU.
That being said, the best Antivirus software offers you tons of options when it comes to scanning. You can, for example, opt for on-demand protection. This means you can conduct a scan at your scheduled time. Also, you can customize scanning by choosing only selected files and folders which would further not impact your existing gaming session.
Antivirus Updates May Impact Gaming
An Antivirus has to constantly update its definition regarding the various kinds of malware so that it can identify and eliminate even the newest and the most advanced malware threats on the block.
Immaterial of how fast your internet connection is if your Antivirus has a knack for constantly updating its definitions now and then, you might see a dip in your gaming session. That's because when an Antivirus updates its definitions, it ends up downloading large file sizes which in turn consume bandwidth thereby causing issues in gaming performance.
However, with most modern Antivirus software, this should not be an issue as you can choose when to update an Antivirus.
Can An Antivirus Impact FPS
When considering graphic-intensive games, think of the resources that will be used? For FPS, a game uses a graphic card. Now, since an Antivirus doesn't use a graphic card, it shouldn't affect your FPS. However, as far as video processing is concerned, a game also consumes CPU power and your antivirus consumes your CPU power. Rest assured, if you are using, for instance, an i7 processor for high-end games or even an i5 processor for average games, your Antivirus won't affect your gaming.
How Can An Antivirus Be Beneficial While Gaming
Let's discuss some benefits of having an Antivirus aboard while gaming. We'll also talk about things you can consider when using an Antivirus while playing games –
Antivirus keeps you protected from malicious threats while you are playing online or while you are downloading a game
Even after you have downloaded a game, a good Antivirus would check it thoroughly for any malicious hearts
Many Antivirus programs come with game booster mode
Several Antivirus utilities don't just protect you from malware or other kinds of viruses but they even clean your hard drive regularly
Which Antivirus To Choose From?
The options for Antivirus programs are many. Keeping the above points in mind, here are some of the best Antivirus available for Windows and Mac. Systweak Antivirus is indeed a great example of the kind of Antivirus, you can have on Windows if you are a gamer, and here's why?
It's lightweight. It doesn't consume much of your computer's resources even while running in the background
Offers real-time. You can schedule your scans as and when you want
Multiple scan types are offered. You can choose from quick, deep, and custom where you can even choose selected files and folders for virus scan
Even suited for systems with low configurations
Offers web protection that can keep you safe from malicious threats when you are gaming online or when you are downloading games
How To Use Systweak Antivirus
Using Systweak Antivirus is very easy for the simple fact. It takes the maximum responsibility of removing every ounce of malicious threats from your PC.
1. Download and install Systweak Antivirus using the below-mentioned link –
Click Here To Download Systweak Antivirus
2. Click on the magnifying glass icon from the left-hand side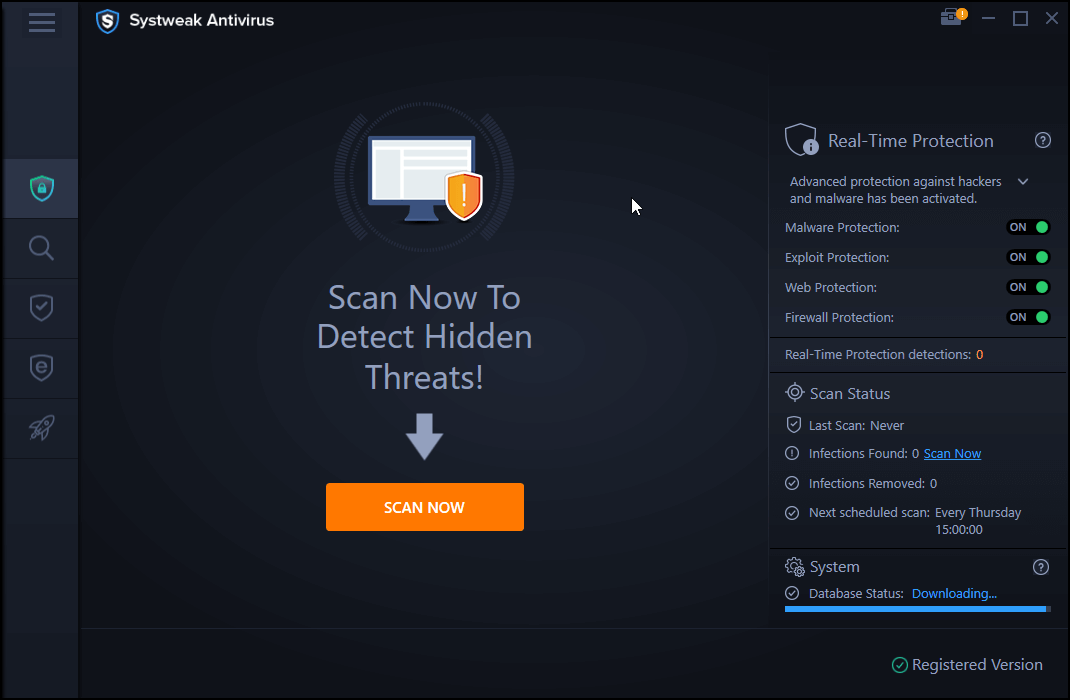 3. Choose the mode of scan – Quick, Deep, and Custom. In case, you choose Custom Scan, you can scan for specific files and folders
Read Complete Systweak Antivirus Review
Should You Disable Antivirus While Gaming?
As a matter of security, we'd say don't!
But, in cases where the system configuration is low, disabling Antivirus once in a while might be risky but at least it'll preserve the user's gaming experience.
Let's assume that for once you have disabled your Antivirus, because why not? Most Antivirus (including Windows own Windows Defender) leave the decision of enabling or disabling Antivirus at your discretion. And, you forgot to re-enable it. Moreover, you are enjoying the internet full-throttle. This will put you on the frontline of a cyberattack.
In case you have a low configuration and if you are planning to delve into gaming, we'd suggest an upgrade. As for an Antivirus, you can opt for a more lightweight alternative, like Systweak Antivirus.
Related Topics