The router is a device that helps your other devices such as computers, laptops, smartphones, and others connect to the internet. Just like any other device, even a router can be infected with malware.
Signs That Your Router Has A Malware Or Virus
A malware-infected router doesn't just put you in danger but your friends, family, or anyone who is on your network, who is using a computer, smartphone, or any other device.
You might be redirected to a website mimicking a genuine website except you won't find the lock icon
Your PC or phone starts running very slow
Unknown applications start to appear even when you haven't downloaded them
You are prompted to purchase fake antiviruses
DNS Hijacking – where you or anyone on your network will be redirected to other websites (mostly malicious), websites that you are unaware of
You are unable to access certain websites or services because your router is hacked and the hacker has changed your credentials
Common Examples Of Router Malware:
Some of the notable examples of router malware include –
It is an Android Trojan Malware which if succeeds changes the router's DNS settings and redirects the victims' website traffic into the hands of cybercriminals. Not just that the hackers can even see the traffic of the infected network. It first occurred in the year 2016.
Again VPNFilter is a malware that attacks routers. It doesn't just expose your credentials to hackers but if left unchecked it can render your device completely unusable. To get more insight, click on this link.
How To Check Router Malware
Here are some ways you can deal with an infected router –
1. Backup Data On Your Device
It doesn't matter what device you have – it could be your phone or laptop, make sure you take a backup of all your data before heading on to any further steps mentioned in this blog. Click here to know how you can backup your personal data on your computer, Android, iPhone, and Mac.
2. Install An Antivirus Software
A malware-infected router would certainly make your device vulnerable. As a line of defense, have Antivirus software ready which will ward off any malicious threats, viruses, or hacking attacks. For Android, there are several great apps like McAfee Mobile Security. Similarly for Mac, here are some of the best Antivirus software.
If you have a Windows PC, you can opt for Systweak Antivirus which is one of the best Antivirus software for Windows 10 PC
Systweak Antivirus – At A Glance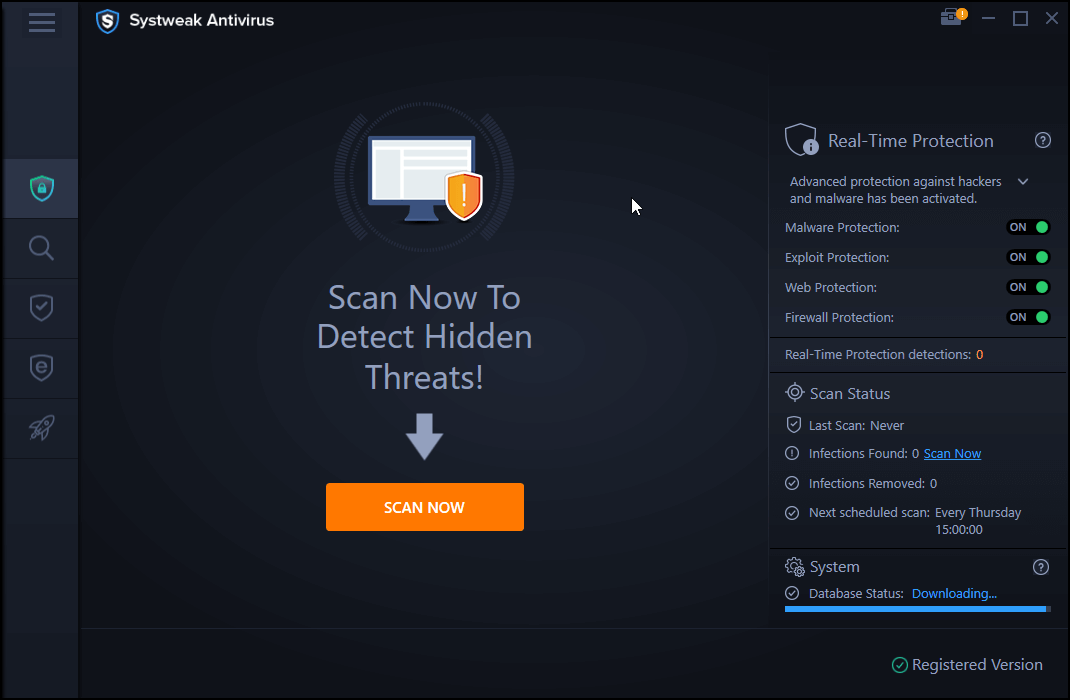 Different scan modes –
Quick, deep and custom give you the leverage to scan every nook and cranny of your computer
Lightweight –
Doesn't consume much of your computer's memory and resources
Exploit Protection
It protects you again all kinds of threats, even zero-day attacks
Real-time protection –
Systweak Antivirus keeps running in the background and analyzes the entire system so that no malicious threat goes unchecked
Click Here to Install Systweak Antivirus
Price: Starts at US$ 39.95 (1 Device/1-year)
Advantage: No-Risk 60 Days Money Back Guarantee
Windows Versions Supported: 10/8.1/8/7 (32 bit and 64bit)
3. Reset Your Router
Factory resetting your router to its default settings would help delete most malware and if not completely by deleting all your recent settings. This step has especially been useful in getting rid of the infamous VPNFilter. You may refer to your router's manual on how you can factory reset your router. In most cases, you can use a straightened paper clip and press a small button for 15 seconds.
4. Upgrade Firmware
In most circumstances, since the router is provided by the ISP, they make sure that your router receives updates on a regular basis. However, if you have anticipated a malware attack on your router, it might be time to dash to your manufacturer's website and take the baton of upgrading firmware into your own hands. This way you will be able to patch any security vulnerabilities such as malware attacks and viruses.
5. Promptly Change Your Administrator Password
After having factory reset your password, the next measure you should take is quickly changing the Administrator password of your Wi-Fi router. You can visit your router manufacturer's website and download the manual on how you can change the admin password. This step needs to be done with care as you might lose important router settings such as encryption settings, wireless network SSID, and others.
Also Read: How To Change The Router IP Address in Windows 10
Wrapping Up
The sole purpose of this blog was to reinstate that you should stay alert against vulnerabilities such as router malware. If the blog has been useful and interesting, do upvote it and share it with everyone you care for. For more such content keep reading Tweak Library.