Table of Contents
Laptops are more convenient and portable than desktop computers that make many people like them. Laptops are the most amazing tools for people on the move, however, at times, those compact features become flaws at home or in the office. Although the compact size adds a lot of handiness in your life and offers you the ease-of-use. At times you face challenges connecting other external devices. If you wish to connect a monitor, a keyboard, a smart TV, a mouse, or any other external device, things might get a little complicated.
That's where you need to have the best laptop docking stations available to connect your system with multiple monitors, a wide variety of USB peripherals and external devices. The best laptop docking stations are loaded with a wide selection of ports including multiple USB-A 3.1, Thunderbolt 3 dock, USB Type – C, HDMI and Ethernet ports, all bundled in a compact and durable aluminum chassis.
Why Do We Need A Laptop Docking Station?
You must be wondering why we need a laptop docking station when we already get a few of the above ports with our laptop. Well, there are various reasons to justify this. The number of USB ports found on a laptop are not remarkably high enough to connect more necessary devices. The ports available on the laptop can often break down if you use them frequently, or they may start acting crazy. To enjoy the convenience and compatibility with multiple portable devices like a desktop, you need to get your hands on a laptop docking station.
What To Look For In A Laptop Docking Station?
1. Connectivity
There are some laptop docking stations that are envisioned for specific models hence they only offer special ports for connecting particular devices. We should look for universal laptop docking stations that provide universal connectivity to brand-independent devices. Getting one that's universally compatible is generally the better option as it offers more flexibility. Do check for OS compatibility as many docking stations are not compatible with Macs or Linux computers.
2. Screen Expansion
Those who prefer multitasking, wish to connect more displays with a docking station. If screen expansion matters for you, ensure to check the supported resolutions because some docking stations only offer HD resolutions while advanced one can accept up to 4K or more.
3. Extra Features
While making a purchase, it's wise to take a look at extra features that fit in your budget. We get delighted when we get cherry on the cake as some laptop dicking stations are available with extra features like integrated fast charging ports, card readers and more.
4. After-Sale Service
Though laptop docking stations are advance in technology, it is still advisable going for a branded one. Only a reliable company will offer after-sale services in form of warranty, technical assistance or manufacturing defect.
5. Size Matters
You may have a busy desk at your workplace hence it is recommended to look for a laptop docking station with a small footprint. With a large number of ports and a lightweight portable laptop docking station will give you the ease of comfort with technological advancement.
Now that we have a fair idea of what to look for in a laptop docking station, let's take a quick look at the roundup of the best laptop docking stations.
Top 5 Laptop Docking Stations
1. J5Create JUD500 USB 3.0 Ultra – MacBook Pro Docking Station – $254.97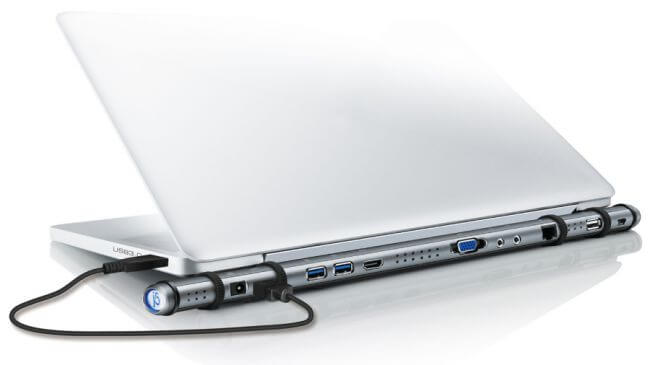 Ports: 2x USB 3.0, USB 2.0, VGA, HDMI, Ethernet, 2 x audio jack
The J5Create Ultra Station is one of the best MacBook Pro docking stations with a neat and compact thin bar pattern. You can attach this docking station at the back of your Windows or MacBook notebooks. It is loaded with a variety of connectivity options like a pair of USB 3.0 ports (one of which has power for charging), VGA and HDMI ports, Ethernet port, a USB 2.0 port, along with plus speaker and mic jacks.
This MacBook Pro docking station has an attractive 'wormhole' USB connection to connect another computer simultaneously. You can share files by simply drag and drop option from one machine to another. You can also share your keyboard and mouse between both the devices, and work on cross-platforms like sharing things between a Windows notebook and a MacBook.
Pros
Wormhole option
Slim Design
Cons
2. StarTech Thunderbolt 3 Dual-4K Docking Station – Most Advanced & Expensive – $268.70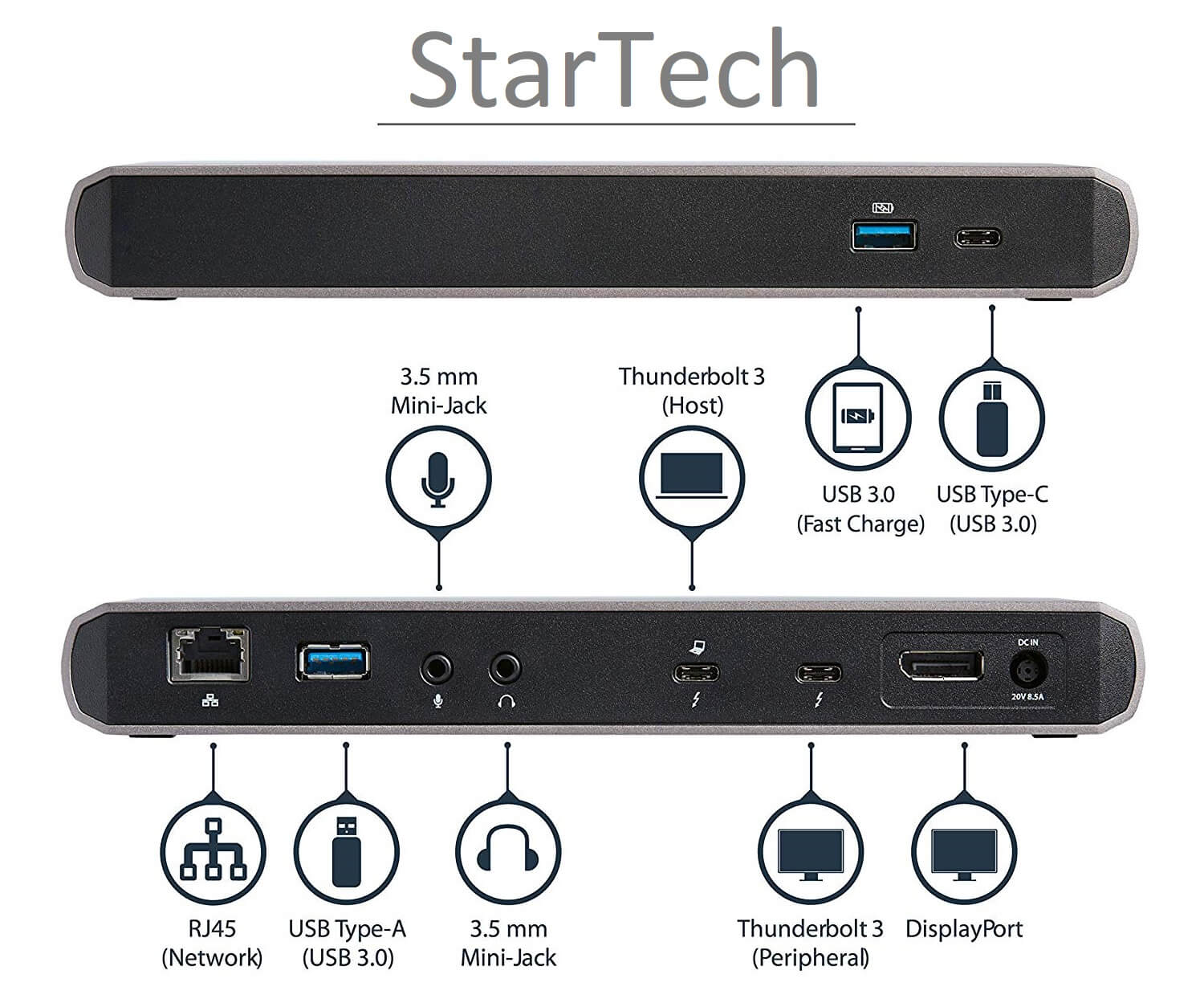 Ports: 2 Thunderbolt 3 dock, USB 3.0, Gigabit Ethernet, DisplayPort, USB Type A, 2 3.5mm mini-jack
This is one of the most advanced laptop docking station ever available in its class. StarTech's Thunderbolt 3 laptop docking station has a unique feature of avoiding multiple leads. The device has been designed to use only one cord to work with thinner Windows & Mac notebooks with all the ports. This counts for another finest MacBook Pro docking station in our list.
As the name advises, StarTech Thunderbolt 3 Dual-4K Laptop Docking Station supports dual 4K display (at 60Hz) and can connect the raw power of Thunderbolt 3 dock, offering 40 Gbps bandwidth easy portability. It also provides Gigabit Ethernet capability and can be used with up to three USB 3.0 devices. While giving Direct DisplayPort integration, it also demonstrates the ability to charge your smartphone devices. If you're looking for a powerful dock, this investment is worth it.
Pros
Thunderbolt 3 dock
One cord with plenty of connectivity options
Cons
3. Microsoft Surface Dock – (PD9-00003) – $127.99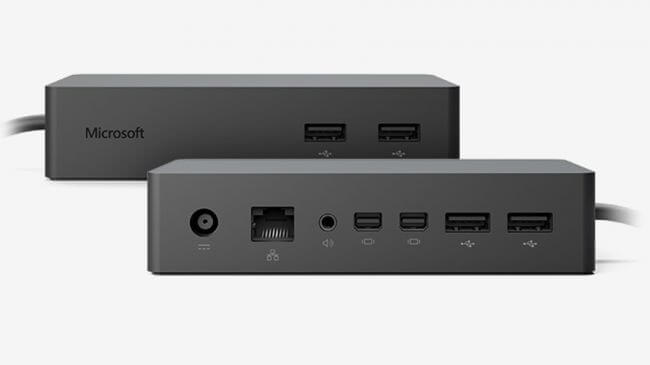 Ports: 2 x Mini DisplayPort, Gigabit Ethernet, 4 x USB 3.0, audio-out jack
Microsoft is primarily known for its software expertise, however, in the past few years, it has been progressively focused on the hardware front. The Microsoft Surface series of hybrid tablets reveals this flawlessly. If you have one, you'll be glad to know that you can also earn the rewards offered by a docking station.
The Surface book docking station will give you the flexibility of turning your Microsoft Surface into a full-fledged desktop PC. This Surface book docking station is compatible with the Surface Go, Surface Laptop, Surface Laptop 2, Surface Pro, Surface Pro 3, Surface Pro 4, Surface Pro 6, Surface Book, Surface Book 2. As far as the connectivity is concerned, there are four USB 3.0 ports, one Gigabit Ethernet port, two Mini DisplayPorts, and an audio-out jack. This Surface book docking station is a stylish one but pretty expensive as well.
Pros
Stylish
Ideal for Microsoft Surface products
Cons
4. Plugable USB3.0 Dual Display Universal Laptop Docking Station – Best Cheap Dock – $94.91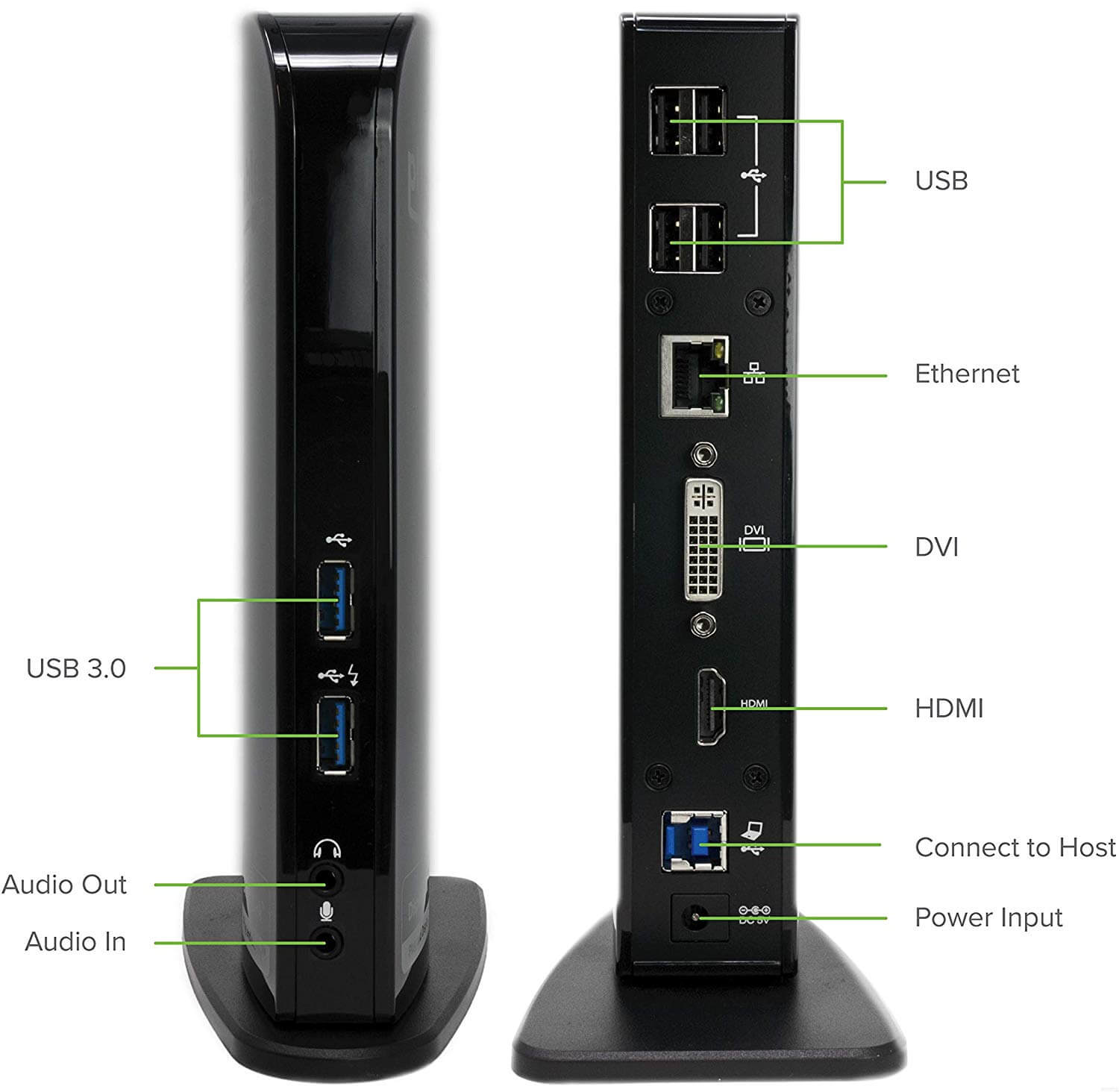 Ports: 2 x Mini DisplayPort, Dual DVA/VGA, HDMI, Gigabit Ethernet, 6 x USB 3.0, an audio-out jack
Plugable's USB3.0 laptop docking station gives you a lot of connectivity options for a lesser cost. It provides full-HD support to two monitors and has all the other ports that a regular laptop docking station provides. If you don't have a 4K monitor at your workstation or a USB Type-C port on your laptop, this docking station will support everything else you have on your table. The orientation of this docking station is in a vertical position which disables keeping the dock under your laptop or monitors, however, the performance and support for dual display make 'Plugable USB3.0 Dual Display universal laptop docking station' as the best cheap choice.
Pros
Affordable
Good performance
Plenty of ports
Cons
Vertical-only design
Doesn't support 4K
5. HP Thunderbolt Dock G2 – Best Modular Design – $269.00

Ports: 3 x USB-C, 3 x USB-A 3.0, Thunderbolt 3 dock, 2 x DisplayPort, VGA, RJ45 Ethernet, 3.5 mm audio jack
HP's laptop docking station demonstrates the best modular design among all docking stations. You can connect plenty of accessories with its vast connectivity with three USB-C, three USB-A 3.0, a Thunderbolt 3 dock, two DisplayPort, VGA, RJ45 Ethernet, and a 3.5 mm audio jack. Instead of a flat, boxy look, the G2 dock gives more of a rounded compact cube with a detachable speaker module that sits on top. For those who often find themselves packed in conference calls and feel that their laptop's speakers are not quite enough, here is the solution to it.
You get up to 120W of charging power back to devices, and the dock supports PXE boot, Wake-on-LAN, and MAC address pass-through for easy remote management. It offers dual 4K displays at 60Hz which gives a modern solution for a brighter display. The only drawback here is that the main cable is hard-wired to the device. If in case it stops working, you will need to replace the entire docking station.
Pros
Includes a modular speaker
100W of charging power
Plenty of ports
Compact design
Supports Wake-on-LAN, PXE boot
Cons
Speaker module adds cost
Host cable does not detach
Summing Up
Jazz up your computing experience with these smart laptop docking stations and connected each and every peripheral you need to ease up your business. If this article turned out to be helpful to you, please like and share this with your colleagues. For more such tips, tricks and tech-related updates visit Tweak Library and if you are more into tech-related videos do watch and subscribe to our YouTube channel. You can also reach us on Facebook and Pinterest.
Next Read: Common Habits That May Damage Your Laptop